HOW TO GET TO THE SOUTH OF MINAS?
Due to the greater proximity to the south of Minas and easy access, we advise all international students who will come to UNIFAL-MG to disembark at Guarulhos International Airport (GRU) or Congonhas Airport in São Paulo – SP.
From Guarulhos International Airport you have the options below that make the route Airport / Rodoviária do Tietê.
Airport Bus Service
Price: R$ 55,00 (approximately)
Time: (+/-) 45 minutes
Táxi GRU- Terminal Tietê
Prices may vary, on average they can cost R$ 120,00.
Time: 40 minutes
Uber
Prices can be from R$ 36,00.
To get to the south of Minas, one of the most practical and inexpresive options is road transport.
If you disembark at Guarulhos Airport – SP, you must go to the Tiete Bus Terminal, where buses leave for all regions of Brazil, including Alfenas, Poços de Caldas and Varginha.
Route 1
GRU- Terminal Rodoviário Tietê- São Paulo
Route 2
Tietê- Alfenas / Tietê – Poços de Caldas/ Tietê – Varginha
Travel Company: Santa Cruz
Ticket prices: vary between R$ 55,00 a 100,00.
To check the departure times, visit the website:
http://www.gruposantacruz.com.br/
For the Tietê – Poços de Caldas route, there is also another opition: the Travel Company: Cometa.
Ticket Prices: from R$ 65,00.
To check the departure times, visit the website:
WHERE CLASSES IN CHEMISTRY GRADUATE PROGRAM TAKE PLACE?
Alfenas-MG
Thirst
Rua Gabriel Monteiro da Silva, 700 – Centro
Santa clara educational unit
Av. Jovino Fernandes Sales, 2600 – Bairro Santa Clara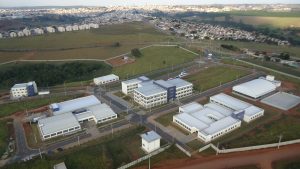 Campus of Poços de Caldas
BR267 – Rodovia José Aurélio Vilela, nº 11.999- BR 267 Km 533
CEP: 37715-400 – Poços de Caldas – MG
WHERE TO STAY?
We notify that the information provided is the sole responsibility of the landlord and negotiations must be made directly between the insterested party and the landlord. DRI only assists in finding avaliable opitions.
ADDRESS
Rua Gabriel Monteiro da Silva, 700 – Centro – Alfenas/ MG – Brasil
CEP: 37130-001
Prédio O – Sala O-309D

EMAIL
dri@unifal-mg.edu.br
PHONE
+55 35 3701-9013